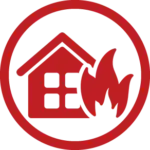 Fire protection and fire insulation
Fire protection is subject to very strict laws and regulations that must be strictly adhered to.
Therefore, preventive structural fire protection should be included in the planning of a building or conversion. The size of the building, the type of building and its use play an important role in the planning.
In fire protection insulation, the legal requirements and preventive measures must be carried out in accordance with current test certificates and rules of technology. Older or converted buildings and facilities are also subject to regular inspections by the competent authorities.
Do you need to think about the right fire protection construction? Then get in touch with us.
We can help you.
For your fire protection we deliver:
Fire ceilings/walls
independent Promat ducts (smoke extraction, supply and exhaust air ducts)
Cladding of ventilation ducts
Mortaring of fire dampers
Pipe bulkheads according to LAR or test certificate
Steel carrier cladding according to test certificate
Cable cladding I and E
Cable bulkheads
Combi bulkheads
Send us your inquiry and you will receive comprehensive advice from a team with years of experience and the latest training. We will examine your needs in detail (of course also directly on site) to find the best solution for you and your employees.
We look forward to hearing from you.