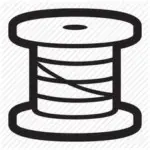 Textile insulation systems
Textile insulation materials are used in many different industries. For example, there are important customers in shipping, the automotive industry, aviation, but also in plant engineering and traffic technology.
The advantages of textile insulation materials are above all that they can be manufactured individually. In this way, we find the right solution for each of our customers from different industries and thus completely different requirements. In addition, you protect the environment with the use of our textile insulation materials.
Another advantage is that with the help of our special insulation materials you can reduce various costs in your operation, which is of course an important aspect with today's high energy costs with a view to the future.
The reusability makes the decision for textile insulation materials even easier. Your requirements are changing? Are you moving, building or replacing an old machine? Your insulation can also be easily and easily adapted to the new environment. Not to forget: textile insulation materials are extremely durable. So you will benefit from your new insulation for many years.
With the use of textile insulation materials, you work future-oriented. Thanks to our top materials, you also ensure optimum protection for your employees. You can optimize and maintain temperatures in your operation and on your machines. The material and the machines are protected to the maximum and so, as already mentioned, immense sums can be saved.
We work exclusively with the highest quality fabrics for our insulation pillows and mattresses. Our raw materials have a wide variety of properties. If you need something specific for your specific needs, ask us for a product specification. According to your request, we will offer you a tailor-made complete solution.
The products we offer are high quality and certified. But see for yourself.
Our team consists exclusively of professionals with in-depth knowledge and many years of experience in the insulation industry. We look forward to hearing from you – no matter which way.