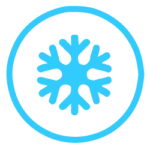 Cold insulation
Suitable cold insulation is just as important as proper thermal insulation and should not be underestimated.
Optimum cold protection insulation can reduce various costs. This helps to protect the environment and meet the increasingly important climate protection requirements. Another goal is the longevity of your systems, which should and can be increased many times over by the best cold protection insulation.
When it comes to cold insulation, it is important to avoid freezer burn and condensation.
We ensure this through a perfect fit and professional and individual processing of the materials used.
When choosing materials, we pay particular attention to robust and durable properties in every respect. Because the right cold insulation must withstand even the most extreme conditions over a long period of time.
Cold protection insulation must be planned and implemented individually for each area.
We are the right partner for this.
Our team is continuously working on technical developments through training so that our customers can benefit from our innovative and contemporary solutions with their various applications.
We are your competent partner in every respect. If our offer appeals to you, please contact us for your tailor-made problem solution.
We look forward to hearing from you.